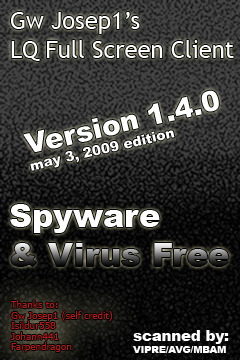 Passed:
AVG Anti-Virus
Malwarebtyes'
VIPRE Anti-Virus + Anti-Spyware
Download:
Get download @ GwJosep1.co.cc
Enjoy the spy ware free updated

_________________
"The only graceful way to accept an insult is to ignore it; if you can't ignore it, top it. If you can't top it, laugh at it. If you can't laugh at it, it's probably deserved."
~ J. Russell Lyns
The secrets to being a master-bait fisher...